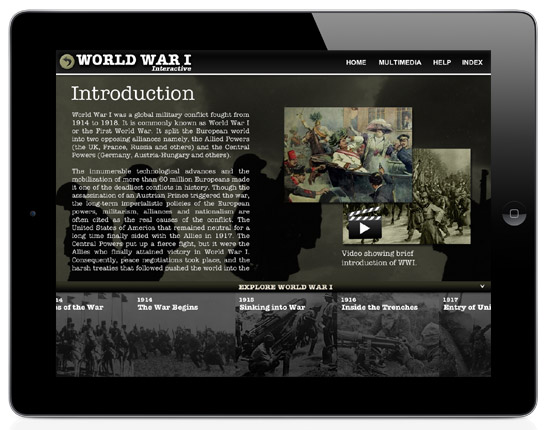 World War I

App on the iPad

A most comprehensive app on World War I made just for the iPad. Brings action from the Great War right on your iPad screen. World War I Interactive covers one of the biggest conflicts in world history in a very innovative interface. The app gives you a complete interactive experience with photos, videos, audios, timelines, articles, etc..

Read about the major battles and events of the First World War in detail. Swipe through the detailed timelines for every month of the war. Watch rare video clips from WW1. See stunning photographs. Learn about the people who led the Allies and the Central Powers. Read below for more details
A really well laid out and interesting book giving a full overview of WWI. Fun to use with interective multimedia and very easy to navigate around in. I certainly was absorbed into the book, more than I would have if it were just text in an ordinary ebook.
- Appcomrade.com, Read their review
An interesting new app from Touchzing Media does a very nice job of bringing the Great War to life in the form of an interactive book.
- AppAdvice.com, Read their review
The app's greatest strength is its multimedia aspect. This thorough app may prove a bit too much for the casual user, but students and history buffs will appreciate its detailed look at a brutal turning point in world history.
- Horn Book Magazine, Read their review

Features & Highlights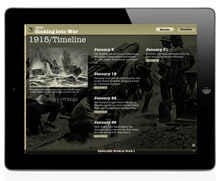 Timelines
7 extensive timelines for the events before and after the war and in detail for every month of the war from 1914 to 1918. The timelines are interactive, you can go to related articles from there itself.
Year-wise Events
The navigation is divided into seven parts: pre-war, post-war and the five years of war.
Benefits
Better than reading a book. Spend hours with it.

Ideal for anyone above age 12: students, adults and history enthusiasts alike.

Hundreds and hundreds of rare photographs.

Gives you a complete overview of the First World War.

Does not overload you with unnecessary information.

Extremely easy to navigate, use, read and understand.

Features a complete index making it easy to jump to any section at any time.

Wonderfully designed with pictures, videos and sounds.
Topics Covered
The App is divided into 7 periods: Events leading to the war, the 5 years of the war (1914-1918) and the post war world. All the major battles and events (from every theater of the war) are summarized in detail. Topics covered include roots of the war, Balkan wars, assassination of Archduke Ferdinand, Mons, Tannenberg, Galicia, Marne, Race to the Sea, Ypres, Sarikamish, Gallipoli, Zeppelin raids, Sinking of Lusitania, Russian retreat, Kut, Verdun, Asiago, Jutland, Somme, Russian revolution, Entry of the United States, Passchendaele, Lys, Hundred days offensive, German revolution, Treaty of Versailles, etc. and many more.