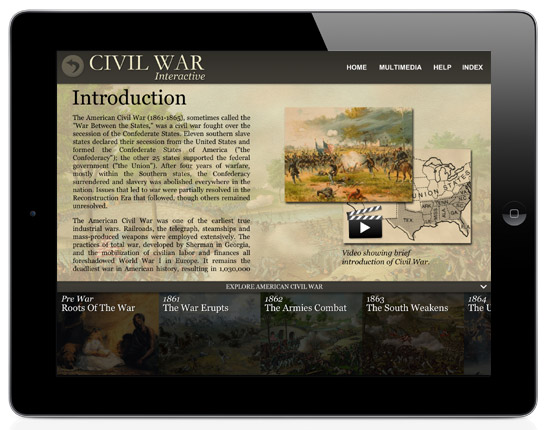 America's Biggest Conflict on the iPad
A most comprehensive app on the American Civil War made only for the iPad. Civil War Interactive covers the deadliest conflict in American history in a very innovative interface. This app gives you a total interactive experience with photos, audios, paintings, sketches, timelines, etc.
Read about all the major battles and events of the Civil War. Swipe through the detailed timelines. Listen to recordings of famous speeches of Abraham Lincoln. See stunning photographs and paintings. Learn about the people who led the Union and the Confederacy.
Rated 4.5/5 by Bestappsforkids.com
This application has all the makings of an outstanding reference about the Civil War for both students and hobbyists. Read full review.
Awarded the Kirkus Star. "This is an extremely and satisfyingly meaty excursus through the American Civil War."
Read the Kirkus Review.
"As a huge history buff myself, I can say that this is one of the best history education apps I've encountered for the iPad."
- Tapscape.com, a leading reviews website. Read their review.
The app book is packed with multimedia, great content and a cracking interface and navigation options.
- Appcomrade.com, Read their review
There is just so much information packed into this app, and the design is so well thought out, even we had a hard time putting it down!
- Lisa Caplan, Appolearning.com- Read their review
I am a history teacher and this app is awesome. I am using this app for my entire Civil War Unit. Perfect for middle and high school students.
- Review from App Store
LOVE this app!!!! It is very organized which allows me to easily learn about the Civil war. It is PERFECT!!!!! I own 5 of your terrific apps, and I am hoping you develop one for World War II.
- User Review from App Store

Features & Highlights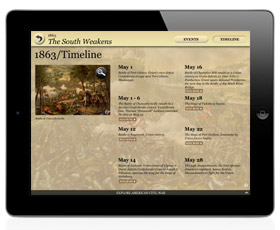 Timelines
6 interactive timelines for the events during 1619-1860 and for every month from 1861-1865.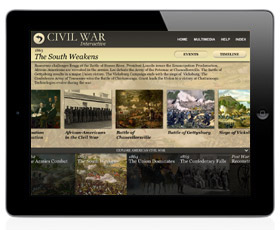 Year-wise Events
Battles and events have been divided into pre-war, post-war and the five years of war.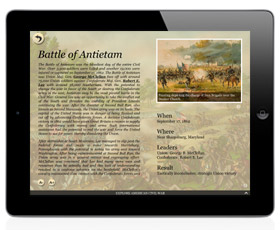 Battles & Events
Every major event and battle is covered in detail with rare photos.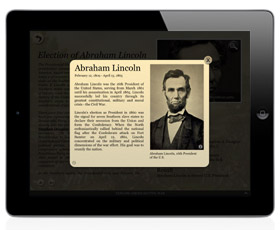 Popups
Read about leaders and small events in popups linked from different places on the app.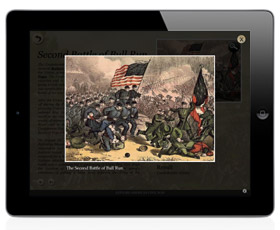 Photo Features
Over 750 stunning photographs with an exclusive Photo Features section.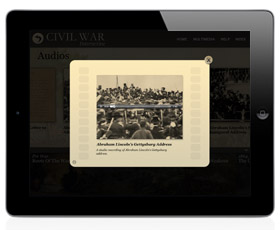 Audios
8 audio clips including a Civil War summary, battle songs and recordings of Lincoln's speeches.
Benefits
Better than reading a normal book.

Wonderfully designed with visuals and sounds.

Ideal for anyone above age 10: students, adults and history enthusiasts alike.

Hundreds of rare photographs, paintings, sketches and more.

Gives a complete overview of the Civil War without overloading you with unnecessary information.

Extremely easy to navigate, use, read and understand.

Has a complete index making it easy to jump to any section any time.
Topics Covered
The App is divided into 7 periods: Events leading to the war, the 5 years of the war (1861-1865) and the Reconstruction era. All the major battles and events (from every theater of the war) are summarized in detail. Topics covered include Rise of Republicanism, Slavery, Lincoln's election, Fort Sumter, Hampton Roads, Shiloh, Antietam, Emancipation Proclamation, Gettysburg, Vicksburg, Wilderness, Cold Harbor, Mobile Bay, March to the Sea, Petersburg, etc. and many more.