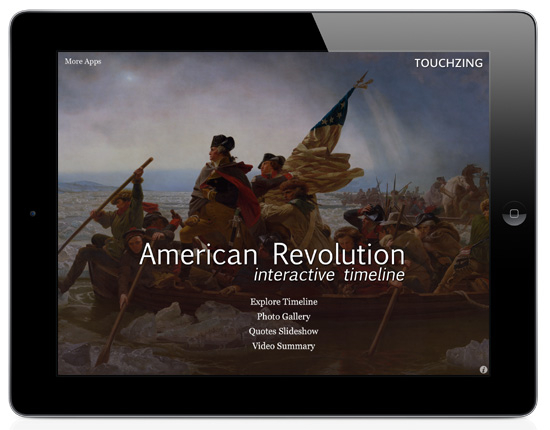 American Revolution Interactive Timeline

App for the

iPad

A comprehensive interactive timeline of the American Revolution takes you through all the events from 1754 to 1789 from the French and Indian War to the inauguration of George Washington. With over 515+ photographs and articles, this beautifully designed app takes you right through the birth of the United States of America via the Revolutionary War.
I could not ask for a better American Revolution app. I also have the American History timeline. Both are extremely HIGH-QUALITY, comprehensive, just FULL of great information and pictures. There is so much more I need to explore in these apps. I am just thrilled!!! These apps are the BEST of the Best!!!
-Review from App Store
This app is a cracking app to have if you want to learn about the American Revolution. The app is easy to navigate around and is a lot more interesting than just a plain book to read. I had a lot of fun as well as educating myself more about the events surrounding the American Revolution.
- Appcomrade.com, Read their complete review

Highlights & Screenshots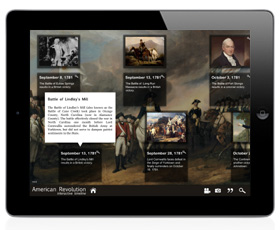 Interactive Timeline
Swipe left or right to browse the entire timeline. Tap on events to open pop-up articles or photographs.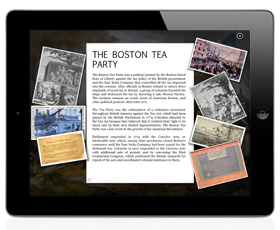 Major Events
Major events of the American Revolution are covered with more images than the minor events.
Features
All major battles, significant events, leaders, etc. See more details below.

Over 515+ rare images, sketches and paintings from the defining years of American History. Zoom in to see photographs in detail.

Search the entire app for a particular word.

Multimedia : Quotes slideshow, Picture gallery, Video summary.
Benefits
Easy to navigate and use. Swipe left or right to browse the timeline.

An interactive visual treat, better than reading a normal book.

Ideal for students, adults or history enthusiasts.
More Details
Topics covered include the French and Indian War, the Boston Tea Party, Battles of Lexington and Concord, Continental Congress, Battle of Quebec, Battle of Bunker Hill, Battle of Long Island, Declaration of Independence, Fort Ticonderoga, Oriskany, Saratoga, Cowpens, Chesapeake, Surrender of Cornwallis, Treaty of Paris, Evacuation day, the signing of the Constitution, First Presidential Election, etc.