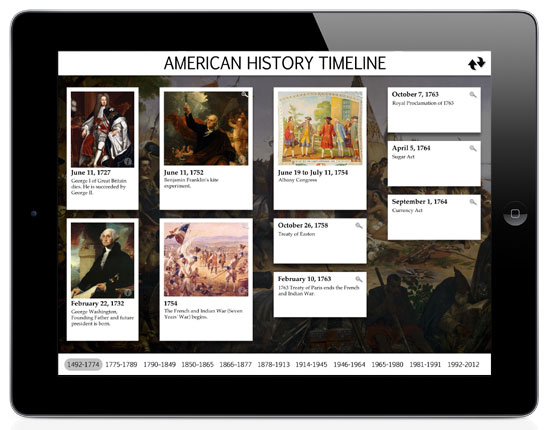 American History Interactive Timeline app

for

iPad

A complete interactive timeline of American History since Christopher Columbus set foot on the American continent. With photographs, videos, audios and articles, this app takes you right through the birth of America, the revolutionary war, the dark days of the Civil War, the two World Wars, the Cold War era, the Space Age and the War on Terror. From 1492 to 2012.

Highlights & Screenshots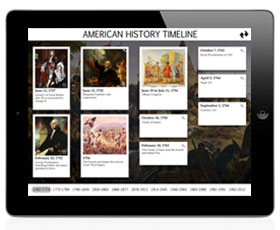 Extensive Timeline
The timeline is divided into 11 periods. Swipe left or right to view events, photos and read more.
Benefits
Perfect for students, adults or history enthusiasts.

An audio-visual treat, far better than reading a normal book.

A complete overview of American history through the centuries without overloading with unnecessary information.

A plethora of easy to use information and media in one app.

Easy to navigate and use.
More Details
The app is divided into 11 periods: the Colonial Era, the birth of America, early national era, civil war, reconstruction, the gilded age, world war 1 and 2, the cold war, the Space Age, computer age and the recent war on terror. The first 3 periods are free. For remaining 8, a single in-app purchase is required.
The app carefully maps the political history of America as well as aspects of popular culture and modernization. Topics covered include the French and Indian War, the Boston Tea Party, the American Constitution, Battle of Gettysburg, all the American Presidents, major monuments, Oklahoma Gold Rush, the Great Depression, atomic bombings, Armstrong's moon landing, etc. All the leading political figures are covered including various figures in the field of sports, music, movies, etc.
With this app, you now have American history right at your fingertips.