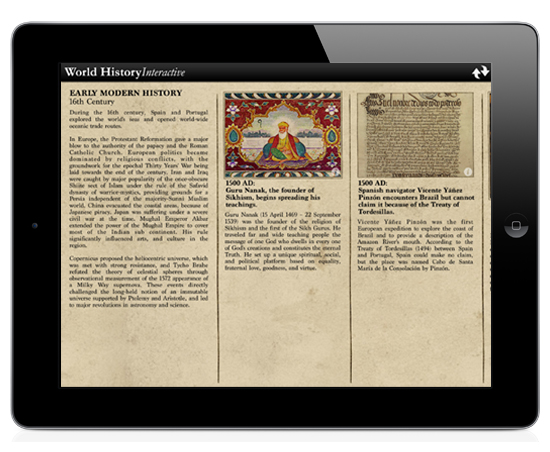 World History Interactive Timeline

For

iPad & iPhone

One of the most detailed apps on World history. Browse through thousands of years right from the prehistorical ages of 200,000 years ago till 2014 in an interactive timeline. Hundreds of photos, articles and videos to bring all the important events alive on your screen.

Benefits
Covers the entire history of the world in a summarized form

Better than reading a book. Spend hours with it.

Features an index that makes it easier to jump to any section at any time.

Ideal for anyone above age 12: students, adults and history enthusiasts alike.

Brief summaries of every minor event, leaders etc. are available throughout the app.

Extremely easy to navigate, use, read and understand.

Over 700+ photographs

This app is totally free - supported by ads.
Topics Covered
The App is divided into 14 periods: Paleolithic Age, Mesolithic and Neolithic Age, Bronze Age, Iron Age, Early Middle Ages, High Middle Ages, Late Middle Ages, 16th Century, 17th Century, 18th Century, 19th Century, 1901-1950, 1951-2000, 2001-2014.